This morning the poor privatised Royal Mail postman struggled through pouring rain to push a single slightly soggy letter through my letter box. It was addressed to me personally so I opened it immediately.
It was from Rt. Hon Theresa May, Prime Minister of the United Kingdom and it said:
"Dear David Gurman,
Just 11 days after you vote, the Prime Minister of the United Kingdom will start negotiations with the European Union to secure the best possible deal from Brexit.
And, David, your vote on Thursday will decide who that Prime Minister is.
And, in this unique and crucial election, which I called to secure the strong and stable leadership our country needs, you can vote for me or Jeremy Corbyn.
I believe Britain's choice is clear."
I thought it might be interesting to imagine for a moment that I'm undecided so that I could carefully weigh the pros and cons before I exercise that oh so crucial choice.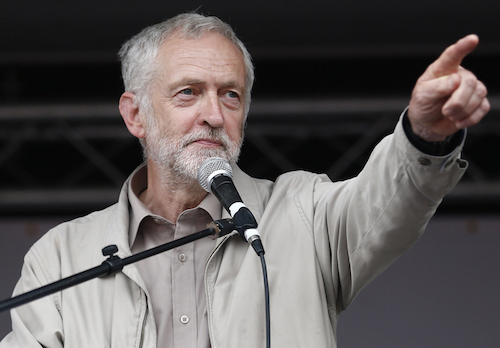 Jeremy Corbyn has been the Labour MP for Islington North since 1983 and throughout his 34 years in Parliament he has put his principles before any personal ambitions.
In the wake of Ed Milliband's resignation after Labour were defeated in the 2015 GE, he was nominated for the leadership of the party and in spite of an unparalleled onslaught against him by the entire British Establishment – including the New Labour old guard – he was elected with an overwhelming majority.
When he took up his post as Leader of the Opposition, he was faced with co-ordinated mass resignations by the same Blairite contingent who had been responsible for the GE failure by refusing to offer an alternative to austerity; but he held firm and chose a new cabinet.
After campaigning hard for Remain, the conspirators within the PLP used the Brexit vote as a pretext for a leadership coup and went to considerable lengths to prevent him from even appearing on the ballot paper. They of course failed and he was once again returned as leader with an even higher percentage of the vote than he'd had the year before.
In spite of his outstanding successes in the two leadership ballots, the most consistent criticism the Blairites levelled at Corbyn was that he is unelectable; and given that he was 41% points behind Theresa May when she decided to call this election, it appeared that their concerted efforts to ensure that the Labour Party looked like a basket case under his leadership would prove them right.
However rather than giving up on impossible task, Corbyn's cabinet produced a manifesto that offers a genuine alternative to austerity; he has travelled the length and breadth of the UK addressing mass meetings and has even made himself available to the overwhelmingly hostile media.
In spite of the odds and of all of the obstacles that he has been obliged to overcome, with the election less than two days away he has whittled the Conservative lead down to low single figures and now there's a genuine chance that he could well cause the biggest upset since the Labour Party's victory in 1945!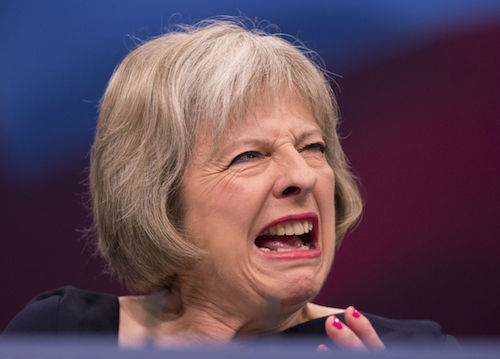 By way of contrast Theresa May was elected as MP for Maidenhead – the safest of safe Tory seats – in 1997 and after various Shadow Cabinet jobs and a period as Chairman of the Conservative Party she became Home Secretary in David Cameron's government.
As Home Secretary she was responsible for setting up the inquiry to investigate child sexual abuse by prominent politicians and clergy and in the first instance she appointed Baroness Butler-Sloss, sister of Sir Michael Havers (who had been Attorney General when the accusations were first made in the '80s and had been passed a copy of a dossier naming suspected Westminster paedophiles but failed to act on the information which later went missing) only to replace her with Fiona Woolf, a personal friend of Leon Brittan who besides being Home Secretary at the time that the alleged offences took place, was also personally implicated in the paedophile abuse. Woolf's successor was New Zealander Dame Lowell Goddard who resigned in September 2016, which further undermined the credibility of the whole process.
Throughout her time as Home Secretary, she consistently failed to deliver on the Conservative Party's commitments on immigration numbers, while at the same time overseeing an erosion of police budgets that has seen their numbers falling by almost 20,000 since 2010.
She was a firm Remain supporter throughout the Brexit process, but after David Cameron resigned and she became the unopposed PM by default, she revealed her determination to deliver a 'hard Brexit' in the highly likely event that the EU failed to concede to her demands.
In spite of assuring the country that she wouldn't do so, with the polls giving her a seemingly unassailable lead over the Labour Party, she called for a snap General Election.
Unlike Corbyn's open mass meetings and harsh grillings by a belligerent media, May has confined herself to attending small, tightly-choreographed events populated by Conservative supporters, where the press have been shut out, preferring fluff pieces like this appearance on the One Show with her husband – and she refused point blank to turn up to a debate with the other party leaders.
And to top it all, although she produced an un-caring, un-costed manifesto, she was still forced to make so many U turns that it was dizzying to observe and the 'Strong & Stable' tag line that she pushed so stridently at the beginning, raised derisive laughter whenever she repeated it later in her campaign, as she has proved herself to be decidedly 'Weak & Wobbly'.
So who would I prefer to have negotiating with the EU for all of our futures, a woman who became leader of the party of austerity without even being elected to the position and whose arrogance has seen her squander the staggering lead that was handed to her, or a man who has established both his principles and his ability to battle against great adversity – and the odds – and to do so in a quiet respectful and mature manner?
Sorry Theresa you could have spared the postie a soaking because there is nothing in your record that suggests that you would be anything but an absolute disaster.