Well it looks like I've managed to talk Roger into a regular slot, so I guess I'd better introduce myself. My name is Dave (David really, sorry Mum – and for any nasty swear words). My surname is no more important now than it was when I started in the despatch business in 1978. Back then, when there was a need to differentiate between me and all the other Daves, I was Dave 23.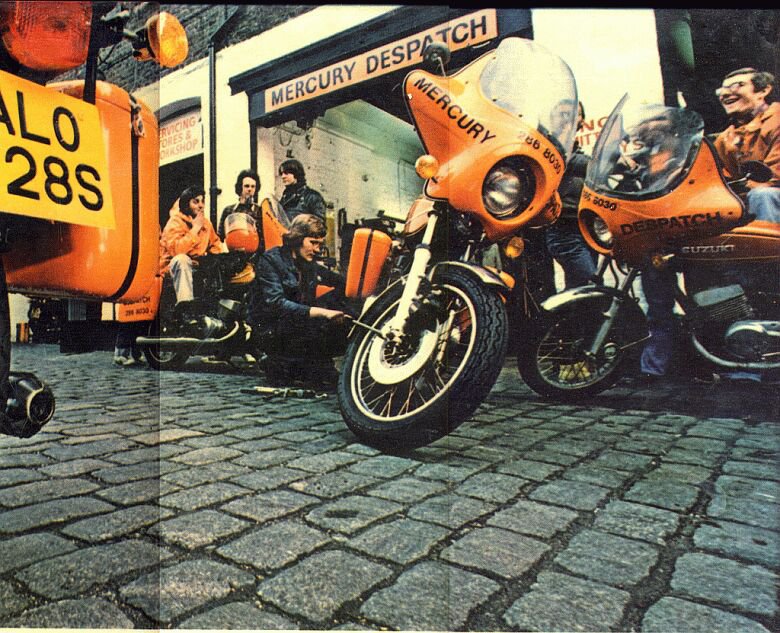 These days, I carry the tag in certain biking circles of Caring Sharing Dave – or Carin' Sharin' for short. However this is not solely because I'm a warm lovely human being, who'll happily give his last Rolo to anyone. It actually refers to the fact that since totting-up prompted a break from despatching in 1982, I've been working more or less solidly as a residential social worker (with the very teenagers the Daily Snail will assure you are the problem with the world today). Of course I didn't get the moniker as affectionate recognition for all the wonderful work I've done over the years; in best biking form it comes originally from an old Alexi Sayle sketch, where he rages at, "Caring sharing Dave the fucking social worker… CUNT!!" and helpfully suggests, "Help a London child… Kill a social worker!" Despatch riders, don't you just love their sense of humour?
Since '82 social work has been my main employment, but dispatching has always been my number one fallback to keep the family fed. Over the years I've had a couple of bouts back in the business – one of 9 months and one of 20 – but even while I was social working full-time, I regularly dispatched on my weekdays off and for the week or so before Xmas. Which was perfect, not only financially, but also because it allowed me to stay in touch with old friends, high pressure riding and – by extension – my younger days.
Which brings me rather neatly to the focus of this month's hippy hocus pocus, namely an assembly of over twenty living historic relics: the fathers and grandfathers (and mothers and grandmothers) of the business. I'm not claiming that all (or any) of those present were around at the actual genesis of the courier industry – wherever and whenever that was – but with his pure white hair and beard The Colonel certainly looks like he's stepped out of the bible – and he was riding a B120 for Mercury in 1973. Rose Woods won the 'in at the ground floor' award on the night, as she'd started on the phones a year earlier.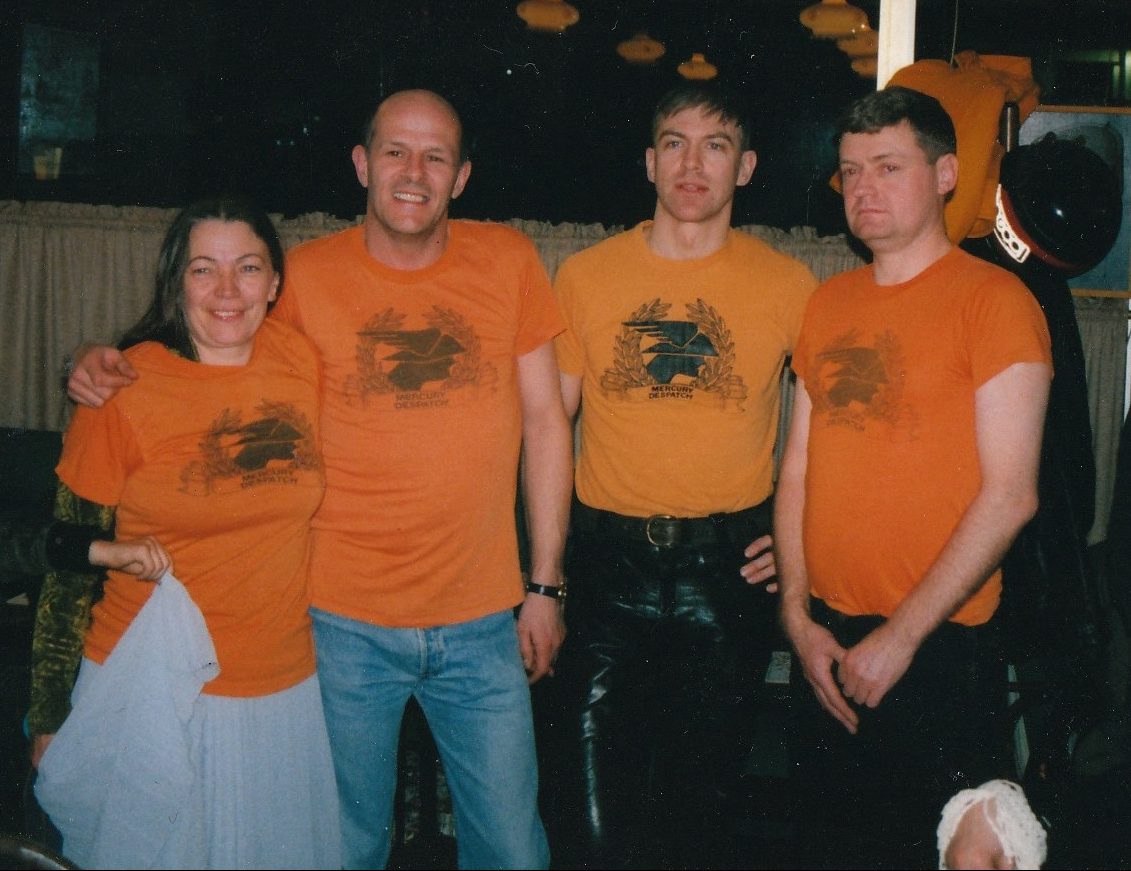 It would be interesting to establish definitively when the courier trade as we know it first came into being. I know I can't comment – what would I know? As Nick Yardley (the big man in every sense of the word at WMS/Bikeshire – and another Mercury alumni) affectionately reminded me recently: "What the fuck do you know about anything? You're a fucking new boy!" Couldn't argue with that, which is why I was looking forward to the get together on March 3rd, when others would be available to point out that he too was both a young whippersnapper and a Johnny-come-lately.
On the night, a lone rat black Guzzi T3 stood outside the Prince Alfred, a tatty monument to a more colourful past. It was 8:30pm on Friday. Twenty or so years ago, the street would have been a sea of orange. Way back then, the '76 Guzzi would have been immaculate and would probably have had a dozen or more bikes for company, lined-up along the kerb in front of the pub. The majority would have been bright orange GT250s, with big orange handlebar fairings and fat orange top boxes and panniers. The orange motif would continue with the half dozen Escorts and Transits scattered around, often double-parked, with more bikes tucked into the spaces between them.
The lack of bikes outside was deceptive, as the narrow bar was crowded with familiar faces. In 1979 helmets, waterproofs and general clutter, would have further restricted the limited space, but on this occasion there were only two motorcycle related piles and it seemed to be an overall increase in personal bulk that was causing the bottleneck.
A couple of decades ago, everyone had to RTB on Friday to check their paper dockets and pick up their wage packets (containing cash and a PAYE pay slip). When you were done in the office you'd just head out of Pindock Mews and across the way to the Alfred. This evening took a bit more arranging, but not a lot. All it required was a few calls saying "We're having another get together: meeting at the Alfred from eight, then on to Luigi's for half nine. Pass it on." and it was sorted.
However for some of our nostalgia trippers, rather than a stroll over the road, getting there required a major trek at the end of their working week. Paddy came all the way from Colchester, Woffy from Warwick and Dylan was going back to Fakenham Magna, in Suffolk later (much later). But the grand prize once again went to Rose Woods who along with Martin and their 7 year old Daniel (who was allowed honorary membership because he inherited Mercury genes on both sides) made the trip down from South Humberside just for the evening!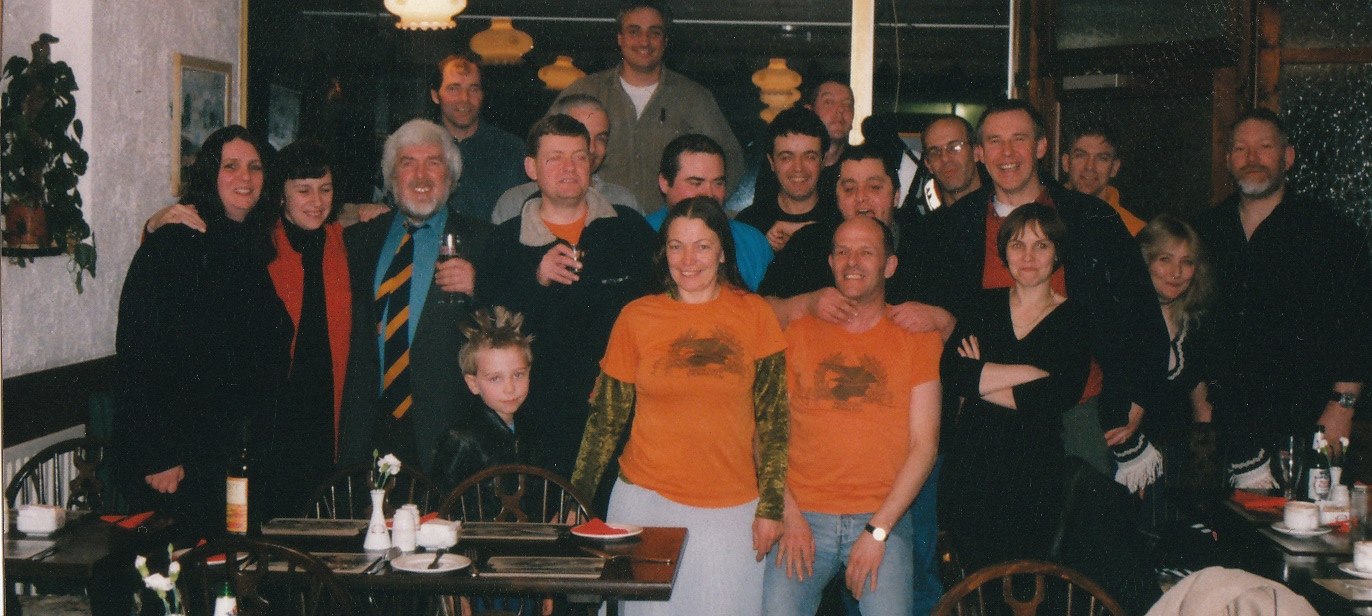 Interestingly although only two people arrived on bikes – Malcolm on the Guzzi and Jerry on his Dominator – fifteen out of the twenty-three, still owned bikes (including young Dan), with eleven using them as day to day transport. Of the eight people who didn't have bikes, five of them: Carol, Cherie, Petra, Rose and Rosy never had owned one and had never worked on the road. Paddy misplaced his left knee (and consequently everything below it) on an unlit skip a few years back and he's been waiting for his payout to go shopping for a nice automatic ever since, so I guess he's excused. Dylan claimed he was just about to buy another bike and added that the fact that he had raced in the 24hr at Le Mans entitled him to a little leeway. Smelly had no excuse beyond the fact that he's a grandfather twice over and that for 20 years he always rode Goldwings – including an Esplanade – so now when he's in the Transit, until it starts raining, he forgets it's not a Honda.
While we're on statistics: of the twenty-two adults who turned up, twelve are still in the courier business, plus another three in "support services" (bike hire/servicing). The dodgy dozen came from across the industry: Worlds End, DMS, Medway Couriers, Point to Point, Reuter Brooks, Citylink, W1, BBC transport, Pink, SD and Mercury were all represented. But only Malcolm still works for Mercury. He'd be due for his silver watch if he'd been there solidly for the last 25 years, but throughout that time he's alternated between World tours with Depeche Mode and Erasure (sorting out their computers and digital equipment) and whatever is going at the old firm. Of the seven who got out: Rose & Martin sold their house in London at the peak and bought a small-holding oop North (both of them now work in their son's primary school); while myself and Dave Newman work with youngsters; which leaves the other three, who were all part of the graduate intake.
Woffy is some sort of technical manager in the yarn business (that's threads not stories although he was at the centre of a lot of the good ones back in the day) drives a top model company car and flies all round Europe… doing technical things. Jerry chose to ride up from his home in Weybridge on his Dominator; he could have used his 916 or his Blackbird (no I'm not kidding) but applying his seasoned judgment, he decided tall and slim was the order of the day. And how did he pay for his bikes? Not despatching that's for sure. He took a year off before he went to college and spent the whole time at Mercury with his throttle on the stop, earning hard on out of town work to pay his way through medical school – and now he's a Consultant Orthopaedic Surgeon! I suggested he might set up business with the Colonel, running the first ever one stop bike and rider repair shop. Jerry thought there may be issues around hygiene, but Dave reassured him that there was little you couldn't sort with a good bath of Jizer. Paddy, the last of collegiate set, left Mercury in '79 to work as a diver on the North Sea rigs, which he did for over ten years. Ironic then that after two such statistically dangerous occupations he lost his leg in an accident while doing his current job: designing and building incredible high-end speakers (which incidentally you really wouldn't believe – whatever you may have heard – four models from £800 to £11,500 from him at Electrofluidics).
Getting everyone to stop buying rounds and leave for Luigi's was a real blast from the past. The main reason so few people rolled up on bikes was simple – booze. Twenty years ago half of the same group wouldn't have given it a thought; they'd have hammered it all night, hopped on their bikes and screamed off. Which is why a number of them have experienced the horror of a drink-driving ban (one or two more than once). Consequently most of the group have either witnessed close up, or actually suffered a really long ban and the legacy of nightmare insurance that goes with it. There were enough four wheelers to take anyone who'd had a few and nineteen of us ended up in Il Carpa D'Ora in Mill Hill Broadway.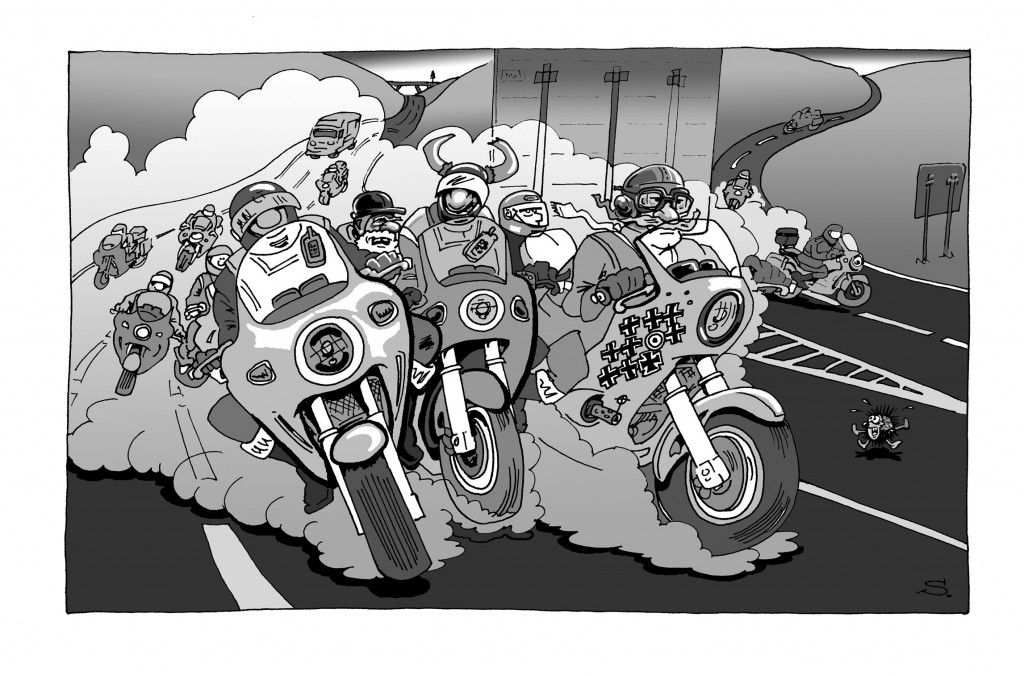 What possible significance could a fish & chip restaurant in NW7, have for a bunch of geriatric dispatchers? And why would they let them in at gone 10pm? Simple, the proprietors: Luigi and his delightful wife Franca, used to own the Venus Cafe in Shoe Lane, which besides serving damn good food and being well located for beautiful office types, was right next to Mercury's account petrol station. No surprise then that Shoe Lane was generally recognised as the gateway to the city. It was only a short detour from anywhere when you were swinging from West to East or visa versa so it was always worth checking Lou's to see if anyone else was there. In those pre-signature days, four riders on wages, all with big press releases and A.D.s (As Directed), could buy themselves up to an hour in the cafe simply by sorting their deliveries and divvying them up properly.
Luigi's last respectable Friday night customers were leaving when we arrived – they probably waved for their bill when they heard Malcolm's T3 pulling up (an interesting bike, he'd ridden it all the way there in third, because it was the only gear available!). Once inside we sat and ate and talked, and those who were drinking continued to do so. Even though the piss-taking and one liners were as caustic as ever – taking in everything from new jibes about receding hairlines and increasing waistlines, to established wind ups that had been going on for decades – it was an amazingly relaxed and comfortable atmosphere.
The last time we had one of these nights was around five years earlier. At that time there was still a bit of edginess: like the ex-rider who hated the ex-controller because when he was on the box (in 1977) he'd sent him down to a pick-up in Selsdon at 6.55pm on a Friday. The worst part wasn't getting back to town and discovering it was a W & R, but hearing in the pub later how the controller had creased up after he told him to knock it out. Bastard!
But there seemed to be no vendettas to up the tension this time. The fact that everyone bar Jerry has now passed forty probably had something to do with this. It's difficult to keep a grip on the old shit when you're going through a mid-life crisis (ask Kevin Spacey) and if you're already sorted, few things besides the naked flesh of your preference, get you quite as excited as they used too.
With the exception of bikes that is. That drug just keeps on pumping. When we did our fond farewells at around one-thirty, I regretted not coming on my bike. A little brains off, balls out blast to South London, would have been the perfect reminder of what it was that originally drew us into each others company (and we could well have ended up with photographic records of our exploits). The mob handed rides from the Alfred back to Peckham in pre-technological traffic enforcement days were extreme. I can remember many occasions when a dozen of us would fall into the flat twitching and dripping adrenaline, while the bikes pinged as they cooled in the courtyard below.
Who knows? Perhaps we'll make the next one bikes only. If we all manage to keep the ravages of obesity, old age and the law of averages at bay until then, we'll probably be overdue for a good cull. Still, what the hell! What odds would you have got in '79 that we'd still all be alive, at liberty and biking in the 21st Century?
Be careful out there
Carin' Sharin' Dave.
---
This originally appeared in issue 31 of The Rider's Digest in April 2000