…Spoil the chances of producing yet another generation who believe that the best way to teach a child respect is to beat it into them.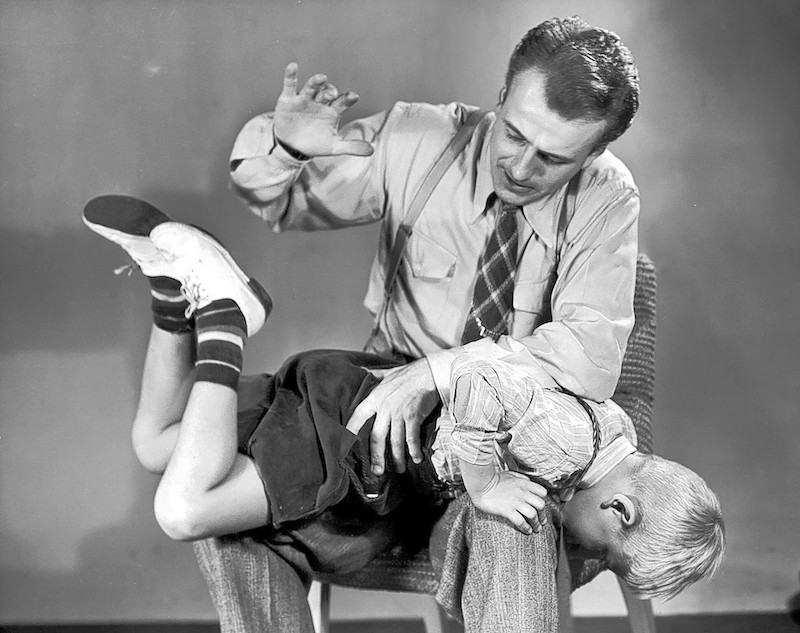 To be honest I was under the impression that outside of the last bastions of mid 1950s mentality like the Dailies Mail and Express, the debate about whether beating a child was acceptable – or even efficacious – had already been done and dusted. However, it would appear that there are still a whole load of people in so called civilised countries who still stick resolutely to the old adage and who firmly believe that only wishy-washy, ineffective parents spare the rod and consequently end up with spoiled, ill-mannered and disrespectful children.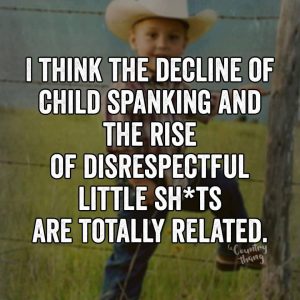 My attention was drawn to this atavistic attitude by the meme on the right which appeared in my Facebook feed courtesy of an American friend (via a page called "The Red, White and Blue" – obviously this could just be a group of patriotic Americans, but a glance at the 'Related' threads on FB showed that they include "Donald J Trump", "Extremely pissed off RIGHT" and "Prepare to take America back", which suggest that Samuel Johnson was spot on when he said that patriotism is the last refuge of the scoundrel).
After a bit of discussion it would appear that this belief in efficacy and importance of beating children is largely a religious thing; as the very first respondent put it, "JESUS is much wiser than I can ever be. He is the true author of forgiveness and love. He told us all , If we spare the rod, we will spoil the child."
However as anyone knows who has bothered to actually read the big book rather than listening to what the (big money-making) TV and radio evangelists' interpretations tell them, Jesus never said any such thing. They're probably thinking of this little nugget (this is taken from the King James Version – other versions of the true word of God are available):
He that spareth the rod hateth his own son but he that loveth him correcteth him betimes/Withhold not correction from a child: for if thou strike him with the rod, he shall not die. Thou shalt beat him with the rod, and deliver his soul from hell. —Proverbs 13:24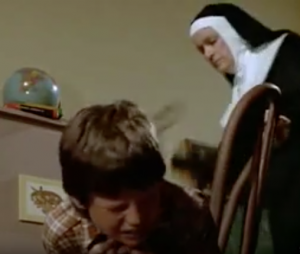 But frankly it could be just about anything from the Old Testament, which to my child's mind's eye, seemed to largely be vicious, vengeful and vindictive; not to mention mean-minded and frankly rather warlike. Which strangely was nothing whatsoever like the Jesus that I learned about from the nuns and visiting priests throughout my primary school years. He was the one member of the Trinity that I absolutely loved to pieces and was looking forward to meeting (as opposed to the Holy Ghost whose role I never really understood and his Dad, who frankly struck me as being a bit on the strict side – a lot like the nuns who caned me on a semi-regular basis for various transgressions, most of which I was 'guilty' of).
I couldn't help noticing over the years that the people who use the Old Testament (whether it's a Christian, Jewish or Muslim version) to justify everything from physically abusing children, to misogyny, homophobia, religious intolerance and Holy War, all seem to have attitudes that reflect my childlike response to the bible and all of the contradictions it contains. Which would go some way to explaining why so many 'Pro Lifers' are in favour of the death penalty and also support bloody wars that result in the deaths of thousands of innocents – after all if it's good enough for the bible…
It also explains why someone might believe that it is somehow possible to beat respect into a child, without even stopping to consider the glaring contradictions inherent in that position.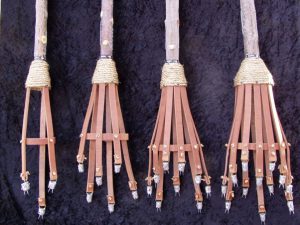 I'd be grateful if any child-beater reading this would be good enough to inform me what you do when you've tried spanking your child and it fails to deliver the desired outcome? I'm assuming that you step up to a slipper or a cane to ensure that the child (infant?) respects you and never does it again. But what do you do if they still don't respect you enough and they do do it again? Do you raise the stakes and use a belt? And if he or she is a really stubborn little bastard (possessed by the Devil maybe?) do you add metal studs just to be sure that you are doing everything you possibly can to prove that you truly love your child and care passionately about saving its soul and preparing it for a future that you approve of?
I'm intrigued to know because aside from raising four children of my own to happy well-adjusted adulthood, I also spent twenty-two years working with 'difficult' teenagers in residential settings and it didn't take me too long to establish that violence – in any form – could only undermine any possibility of building a positive relationship, a relationship that might allow me to help that young person to manage in a world that is filled with contradictions, prejudice and people who demand 'RESPECT' without it ever occurring to them that it might be a two-way street.
I particularly recall a conversation with one young man I had late one night after I'd been called in as duty manager to deal with some acting out behaviour by a few of the boys. He told me that the trouble with us staff was that we were too soft; if he'd had to leave home and ride halfway across London just to deal with his shit, he'd have given out some beats! That a good licking was the only thing that him and his mates understood. His mum had used a trainer on him since he was three, Seyi's mum used a kettle lead, while Errol's dad used the buckle end of his belt or anything else that fell to hand. "Yes" I said "but what's the one thing that you all have in common?" When it was obvious that he didn't know the answer I told him "You're all here because your parent's were unable to control you by beating you; so what do you think I could do to hurt you enough to make you behave?"
I would appreciate any comments from anyone who can present a rational argument, explaining how it is that I have managed to do everything completely wrong but still – in spite of my dogged unwillingness to beat them – turned out four decent, respectful, productive adults?
---
While I was writing this there was another response to the aforementioned FB thread saying "Sit on the naughty step please". The writer was obviously congratulating himself on cutting through my "wet lefty" (as he'd put it earlier) unwillingness to beat my kids, but as it turns out it was a timely reminder because that is precisely what I have done any time my children's behaviour demanded it – which would've invariably been the sort of occasions when the pro-spankers would've hauled their child across their knee. 
I replied that the 'naughty step' was my punishment of choice but he hasn't replied yet. If he does it's likely that it will be with something along the lines of "And what do you do when the kid tells you to go and fuck yourself?" and my response would be, what do you do when you tell your sixteen year old to bend over so you can beat them and they, being bigger, stronger, and thoroughly tutored in the creed of violence as the answer and might being right, tell you to go and fuck yourself or they'll take your cane and turn you into a lollipop by sticking it up your arse?
The reality is that if your young child refuses to defer to your instruction, unless they are already leading an entirely austere lifestyle without so much as a bedtime story to bring a little joy into their life, there are guaranteed to be a wide range of things that you can withdraw and threaten not to restore until such time as they do comply. Consequently by the time you reach the stage where your child's sheer size and physical capability demands a more considered approach, you'll have already established a regime that's built on reason rather than brutality.
When my oldest boy (who's nearly thirty-two now) was fourteen – a notoriously difficult age – his eight year old brother was aggravating him and I'd had to step in a couple of times telling the younger lad, who was clearly the main source of the problem, to stop it or he'd find himself on the stairs; I then turned to the teenager and said with a smile, "And if you carry on winding him up, you'll end up sitting there too!" Later that evening when his little brother was in bed I asked him "What would you have done if I had told you to sit on the stairs?" To which he responded, "I guess I'd have sat on the stairs… but we're weren't going to go there were we." I find it difficult to imagine how we'd have had such a mature exchange if I'd spent the previous dozen or so years teaching him that I was right because I was bigger and stronger than he was.